Financing your new Air Conditioning and Heating System
When your air conditioner and heating system dies you may not think you have choices. But at Brunson Heating and Air, we offer several options. We have various financial programs that assist you in getting a system back into your home. Choosing to finance provides benefits that allow you to get the comfort system you need, not just the one you can afford. We are your local choice for HVAC Financing in Pooler, GA, and also the surrounding areas.
Microf Financing
Hassle-free monthly payments with no credit necessary!
Microf is a relationship-based company that places top priority on the wants and also the needs of our customers. Our innovative lease-to-own strategy provides unmatched flexibility to consumers through quick response times and multiple payment terms and options. Microf helps restore the heating and cooling needs of the consumer with an affordable monthly payment through our extensive contractor network.
5 Things You Need to Know About Microf:
We specialize in lease purchase options for residential replacement HVAC systems.
Our team has a simple application process.
We offer convenient and affordable monthly renewal payment options based on 36, 48, and 60 months to ownership.
Customers can take advantage of the meaningful monthly payments and early purchase option discounts.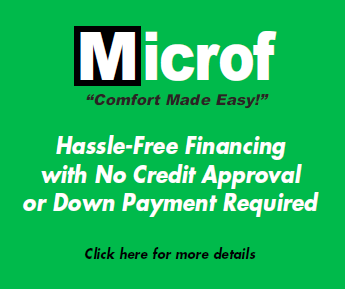 Here are some of the many reasons people choose financing:
Upgrade to a High-Efficiency System: Choosing to finance your new air conditioner and heating system allows you to upgrade to a high-efficiency unit. A high-efficiency system provides a higher level of comfort compared to a lower seer unit and uses less energy. Since a high-efficiency system uses less energy, you will see immediate cost savings in your monthly utility bills. Once the high-efficiency system's payments are complete, you will still receive the cost-saving in your monthly energy bills.
Upgrade to a bigger system: Choosing to finance allows you to upgrade your air conditioning and heating system. If your home has rooms that your comfort system is not able to keep cool or warm then it may be time for an upgrade. When your air conditioning and heating system dies, it is the perfect time to take advantage of a bad situation and upgrade to a better air conditioning and heating system. Upgrading your air conditioner and heating system to one that can provide comfort throughout your entire home will give you peace of mind and be worth financing.
Other Financing Reasons:
Save the cash for other uses: The cost of living is on a steady rise and anyone who has children or owns a home knows providing safety, comfort, and reliability is a top priority. To protect your family you need a system that provides good air quality as well as consistency and comfort. Financing gives you peace of mind; it gives you the ability to get heating and cooling back into your home and allows you to save your cash for other uses.
More and more people are choosing to finance their new air conditioning and heating system. Financial companies have acknowledged this growing number of financing consumers and by creating special programs. Homeowners who need a new air conditioner and heating system or emergency repair now have options.
Wells Fargo Financing
We offer financing through Wells Fargo so you can keep more of your hard-earned money in your pocket.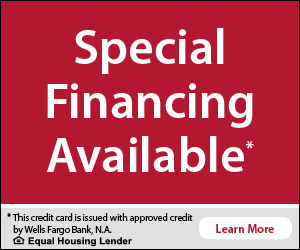 Financing Helps Close the Gap in an Air Conditioning Heating Emergency gives you Freedom
When choosing to finance for your air conditioning and heating system you are closing the economic gap in your ability to getting a comfort system back into your home. Without an air conditioner and heating system, your home and your health are at risk. During the summer, months without an air conditioner to keep your home cool and also comfortable, mold and mildew could grow. This is not just hazardous to your home but your health as well causing severe allergic reactions and also respiratory issues. Without heat, during the winter your home's water pipes could freeze and therefore burst. Whether it is in the summer or winter, going without air conditioning and heat is not an option.
Financing allows you to purchase a new air conditioning and heating system or take care of that emergency repair. Financing helps ensure the future of your home and your family.
If you would like to inquire more information about financing, your new air conditioning, and heating system or emergency repair contact us today. We are Brunson Heating and Air and therefore we bring it all to you! Contact us to learn more about HVAC financing in Pooler, GA, or for your appointment today!
Learn more about our HVAC Services:
Our Service Area
Savannah | Richmond Hill | Rincon | Guyton | Ellabelle | Springfield | Bloomingdale | Port Wentworth | Garden City | Tybee Island
Choose Brunson Heating and Air – Your Local HVAC Financing Authority in Pooler, GA
Competitive Pricing on HVAC Services in Pooler, GA
Expert AC Repairs Pooler, GA
#1 Heating and Air Choice Pooler, GA
Top-Rated AC Repair Pooler, GA
Best Heating and Air Savannah, GA Company
Leading HVAC Savannah, GA Company
Great Air Quality Solutions Pooler, GA